What would it feel like if you had wings?
I want to fly away, feel the wind in my feathers and,
fly away, like there's no tomorrow.
I raise my head and watch the world burn around me,
heat on my fur so I fly away, fly away.

I never wanted to hurt you,
but you never understand,
I never wished to hurt you,
You've now torn out my heart, I can't fly away,
i wish to flee from this place,
everywhere I see your face makes me wish to fly away.

Wish there was something more so I can fly away, fly away, fly away.
I need to fly away, fly away, fly away.

You leave me no choice,
while I still have my own voice,
Why can't you join me so we can fly away,
Feel the wind in our feathers as we
soar the sky,
nothing else but to se you gliding beside me...

Now I'm all alone,
Your at my feet, and now I'm scared,
wishing you still loved me,
time to disappear...
I still wish you where here...

I flew away, fly away, fleed away, ran away, swam away, climbed away...
From the fire in youre eyes they scorch me,
I can never trully... fly away...
Imagine if I had wings to let me fly... away...
_________________
I'm Ezziesong, the cat that will risk my life for love.
Check out my dragons @ http://ezzie10.dragonadopters.com/
My Deviantart page @ http://ezziethenekolover.deviantart.com/
I am new but I LOOOOOVE the Warriors series. (I read the first book in 3 days!)
I have Ezziestar (Tawny clan leader)
Stormclaw (Ex. Tawny clan warrior now in mudbloodclan)
Mistpaw (Dew clan medicine cat apprentice)
(I adopted her out)
Stonepaw (Ex. Loner, Tawnyclan Apprentice)
Brambleleaf (Dewclan queen)
Eaglekit (Dewclan kit)
Dreamkit (Dewclan kit)
Nightkit (Dewclan kit)
Smoke (Wolf pup of GH's pack)
Berri (Wolf pup of GH's pack) *I adopted him*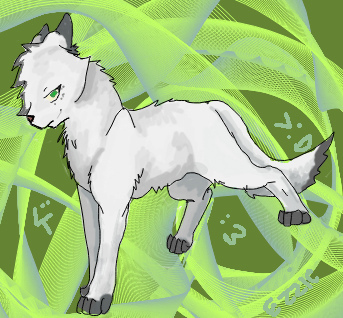 Ezziesong drawn by Loki. THANKYOU LOKI!
And: