I don't think so. Last I heard, Daystar was planning something... I can't remember what.
Also, not only are they different clans. (Nightkit is Dewclan, Stormclaw is Mudbloodclan) But also their ages. Nightkit isn't old enough to be his mate, she's a kit, and Stormclaw is a warrior. that's why I said if they became mates then there would be a problem.
Ooh! I just remembered, SC would be over Ezzie by now, thinking she's in love with a tom who's the age of an apprentice. o.O
XD I have to find someone for him,

_________________
I'm Ezziesong, the cat that will risk my life for love.
Check out my dragons @ http://ezzie10.dragonadopters.com/
My Deviantart page @ http://ezziethenekolover.deviantart.com/
I am new but I LOOOOOVE the Warriors series. (I read the first book in 3 days!)
I have Ezziestar (Tawny clan leader)
Stormclaw (Ex. Tawny clan warrior now in mudbloodclan)
Mistpaw (Dew clan medicine cat apprentice)
(I adopted her out)
Stonepaw (Ex. Loner, Tawnyclan Apprentice)
Brambleleaf (Dewclan queen)
Eaglekit (Dewclan kit)
Dreamkit (Dewclan kit)
Nightkit (Dewclan kit)
Smoke (Wolf pup of GH's pack)
Berri (Wolf pup of GH's pack) *I adopted him*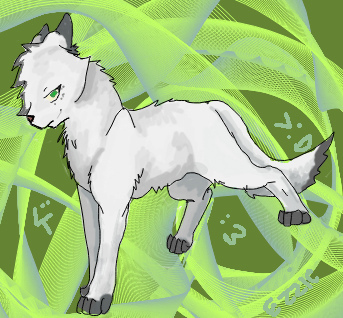 Ezziesong drawn by Loki. THANKYOU LOKI!
And: