Name: Shadowpaw (when warrior will be called: Shadowlily)
Age: 7 Moons

Gender: Tom

Alliance: Tawnyclan

Rank: Apprentice

Appearance: Shadowpaw is a tom with dark grey fur. His fur is at its sleekest right after he cleans it. His eyes are as blue as the sea.

Personality: Shadowpaw has always loved to talk to other cats, even when they didn't want to talk to him.
He's very open, very kind, and helps out around the clan when he's called to.

History: (The whole lily thing is explained here) Being the only kit of the litter of (insert mother's name here)
Shadowlily was cared for and taken care of. One day while he was playing with his friend, named (insert name here) he dared his friend to jump across a small pond, and the only thing to land on in the middle, was (you guessed it) a lily.
His friend made it across of course, but then he double dared Shadowpaw (previously known as Shadowkit)
to jump across. So he accepted the challenge, thinking he would have the same result as his friend.
And of course, he didn't, and unfortunately, the small pond turned out to be very deep, and he almost drowned. Right after a few warriors (insert names here) saved him, they told his mother the story, and when the time came for him to become an apprentice, (his mother had suggested the leader to name him Shadowlily) the leader had named him Shadowlily.

A few things; 'lily' isn't a very masculine suffix, but if it's what you want, then fine.
If his suffix isn't 'paw', then he's a warrior, not an apprentice. You don't receive your warrior name until you become a warrior.
You should really figure out what this game is. A cat becomes an apprentice at 6 moons (months).

Longstorm

LS's Group





Posts

: 2320


Join date

: 2010-12-04


Age

: 23


Location

: Vvardenfell.



I like the history of this bio.

If I was to accept, your tom won't be called Shadowlilly but Shadowpaw until he becomes a warrior (At 12 moons)
Could you please clear up whether your cat is an apprentice or warrior? (If apprentice 6-11 moons old, then prehaps change the name to Shadowpaw, if warrior 12+ moons, then could you change the age?)
thanks.
_________________
I'm Ezziesong, the cat that will risk my life for love.
Check out my dragons @
http://ezzie10.dragonadopters.com/
My Deviantart page @
http://ezziethenekolover.deviantart.com/
I am new but I LOOOOOVE the Warriors series. (I read the first book in 3 days!)
I have Ezziestar (Tawny clan leader)
Stormclaw (Ex. Tawny clan warrior now in mudbloodclan)
Mistpaw (Dew clan medicine cat apprentice)
(I adopted her out)
Stonepaw (Ex. Loner, Tawnyclan Apprentice)
Brambleleaf (Dewclan queen)
Eaglekit (Dewclan kit)
Dreamkit (Dewclan kit)
Nightkit (Dewclan kit)
Smoke (Wolf pup of GH's pack)
Berri (Wolf pup of GH's pack) *I adopted him*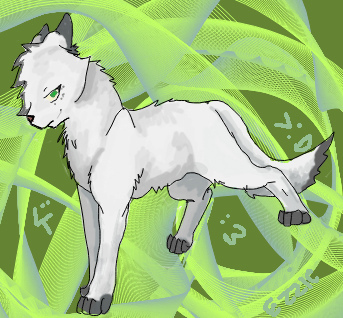 Ezziesong drawn by Loki. THANKYOU LOKI!
And:
I agree. It's imaginative.

Longstorm

LS's Group





Posts

: 2320


Join date

: 2010-12-04


Age

: 23


Location

: Vvardenfell.



Whoops!
Sorry everyone, I really haven't read the books in a while, but other people called me a good writer so I decided to RPG.
Anyways, ShadowPAW (sorry for getting the suffixes and whatnot mixed up there)
is 7 moons old, an apprentice, I just predicted his future a little bit there.
Btw, since I fixed this, is it now accepted?
How kind of me, I edited it for you

I think Ezzie would accept this, btw you need to sort a mentor...
Actually I'v noticed that we have had a few members for Tawnyclan made but none are RPing.
I'm gonna make an announcement.
CLICK ON THIS LINK IF YOU HAVE A TAWNYCLAN CAT!!!!!!!!!!!
*Cough* Thunderclaw *cough*
---
Permissions in this forum:
You
cannot
reply to topics in this forum