I'm thinking:
Vegetarians vs Vegans vs Omnivores.
So I got a message on youtube to do my point of view on the subject of specifically vegetarians vs Omnivores.
If you don't know what an omnivore is then its a person or creature that eats both meat and veg.
I'm basing it on the fact that sometimes you have nothing to do and you are unfortunate enough to come across the dreaded animal cruelty videos. A lot of people find it easy to look away or just not go on the videos. I can't.
A lot of people (because I get severely depressed and "whats the point on living when there's only hate and cruelty" type of mood) ask me "why do you watch those videos? Why not just go and watch yogscast?"
I answer: Because I read the title, look at the thumb and at first I scroll away but then I start to feel that if I don't watch the video then I am just ignoring it and therefore am part to blame. Confusing right?
So anyway , I saw this video, didn't click but after three days of my demons whispering "you didn't watch it because your part to blame..."
So I watched it.
It was horrible and I saw things that nobody in their right mind could some how not imagine themselves in the body of the cow that was having its tail yanked off, the chickens launched,punched and hit; simply for being weak in body and mind. But I also felt tortured to see humans find joy out of the maiming of baby piglets with eyes barely opened.
I'm not saying to anyone to go and watch the videos. No, I read the comments because I always find the opinions of others very interesting. I was glad to see the majority was against it, then you had the "I'm not going to stop eating meat because of this..."
I'm interested in what you guys have to say. I'm a vegetarian, have been for six-eight months now not because I think eating meat is a horrible thing but because I wouldn't want to think some creature has suffered because of me.
What are your views on veg vs omni? I'll definitely add them to my vid.

PS: TO THOSE WHO ARE WAITING FOR DRAGONS, I AM DOING THEM, I WANT UPLOAD THEM ALL AT THE SAME TIME BUT IT SHOULDN'T BE TOO LONG NOW

Personally... I'm an omnivore... but I don't agree to the way humans treat animals in such ways.
I love animals, I really do... but I don't feel ready enough to give up on meat, but I don't eat meat too often.
_________________
I'm Ezziesong, the cat that will risk my life for love.
Check out my dragons @
http://ezzie10.dragonadopters.com/
My Deviantart page @
http://ezziethenekolover.deviantart.com/
I am new but I LOOOOOVE the Warriors series. (I read the first book in 3 days!)
I have Ezziestar (Tawny clan leader)
Stormclaw (Ex. Tawny clan warrior now in mudbloodclan)
Mistpaw (Dew clan medicine cat apprentice)
(I adopted her out)
Stonepaw (Ex. Loner, Tawnyclan Apprentice)
Brambleleaf (Dewclan queen)
Eaglekit (Dewclan kit)
Dreamkit (Dewclan kit)
Nightkit (Dewclan kit)
Smoke (Wolf pup of GH's pack)
Berri (Wolf pup of GH's pack) *I adopted him*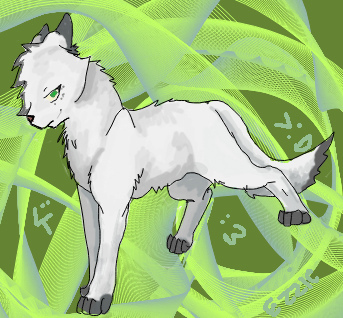 Ezziesong drawn by Loki. THANKYOU LOKI!
And:
---
Permissions in this forum:
You
cannot
reply to topics in this forum