This post doesn't have anything in it because I am making this when I am supposed to be doing something else, oops.
Everyone else can post whatever they want from their skip. Please, actually, post stuff.
_________________
If you have a question, EMAIL me at:
longstormicus@gmail.com
Siggie:

Click here for Newest Warrior Map!

Spoiler:

Butterflies = To Tribes

Hawk = To Dwellers

Funny Moon = Blood Stones

Half-Moon = Moonfall

Longstorm

LS's Group





Posts

: 2320


Join date

: 2010-12-04


Age

: 21


Location

: Vvardenfell.



Tawneyclan


New Camp
Prior to the fire caused by Mudbloodclan, Tawneyclan are forced to leave their old camp behind as so little was left of it.

The overall Camp Appearance:
Five hollowed  oak trees, their bark washed almost white by seasons of rain and the heat of the passed fire. A lightening strike, which had killed these trees, cut through each one to create openings that cats could use to create their nests within. Stonepaw had the idea of using sticks and clay (which is indigenous to the reserve area) to create "floors" in each tree. Each floor can only take 5 cats maximum.

At the base of these trees is thick bramble patch with a Dogbush at the centre which glows white in the new leaf seasons when it blossoms. The brambles were easily parted and woven to better protect the camp walls. A thick undergrowth of climbing plants created a tunnel underneath a fallen branch, safely lodged in between two of the trees. It splits the camp diagonally. This natural tunnel is halved, split between the elders and a Medicine cat den, the broken and splitting crevices of the branch above proving a good place to store herbs.

All the trees have the parasitic plant: mistletoe growing on them. Which can provide good protection from the rain. The leader's den is based on top of the tallest tree with Mistletoe thickly canopying the top. Sticks and bark have also been used to roof the den more securely as the top of this tree is completely hollowed.

The tallest branch attached to the leader's den is also used to announce clan meetings.

The other trees have been floored and hacked to make more accessible. Due to the awkwardness of the camp, creating separate areas is difficult so the apprentices usually stay in  the hollows of the two trees opposite the two that the warriors stay in.

The nursery and queens sleep within the dens made where the massive oak roots have rose from the earth, entwined with each other in the competitive struggle for water. This has made a cosy den on the other side of the fallen branch tunnel & Dogwood to the safest, secure area for young and curious kits. The branch tunnel and walls of the camp too difficult to get through without the help of a watchful mother.

Pros:
-Highly secure camp, especially for young kits.
-Treachery within the camp easily rooted out because of hollow branches.
-Cosy, enclosed, tighter walls create wind break and warmth.
-High branches create good surveillance.
-smell of two legs can be off putting to attackers.

Cons:
-The beautiful camp is unfortunately a spot where two legs sometimes come to look at it. Though they don't come very close and it is rare two-legs enter the reserve, it's still terrifying and the noise can scare prey.
-The hollow trees need regular maintenance to keep the dead wood from falling apart and rotting.
-The Apprentice and Warrior dens, due to being based in the hollows of the trees hold the chance that eventually there may be too many cats if the Tawneyclan population increases heavily.


Other:
Oakclaw has returned to Thunderclan. He warned Ezzistar, albeit seconds under the flames of the Mudblood claws. Ezziestar was stuck at that time to believe whether his intentions were true or not... maybe the thought was there.

Swiftwind, new deputy of Tawnyclan is furious with him and is waiting for him to slip up or show his true loyalty. The  deputy does not want him in Tawneyclan regardless however and would want anything but to see him gone.

Swiftwind is supported by Solarstorm and Leopardstorm in the idea that Tawneyclan needs to become more ferocious and ambitious within the forest and with reminders of the fire still laying testament, prey must be taken to regain Tawnyclan strength. Where else better to look then the Dewclan borders now they are closer the the clan that reeks of kittypets who call themselves warriors?

Solarstorm has been training Stonepaw, the passed two moons, he believes the tom will soon be ready to become a warrior.
DewClan's Two-Month Skip

Deputy:

Dewstar and the rest of DewClan moved back into their camp after the great battle. Dewstar pondered who she should name as deputy - she chose Birdhop, in the end. Birdhop was a fine warrior, and no one could really complain.

Questers:

Not long after, Hollypaw, Nightkit, and Snowfeather returned to them on two separate days, as Sparrowhawk had appeared at the battle out of the blue. The older two explained to Dewstar, Birdhop, and Mistjay the medicine cat that they had been called away by a dream and that they had to listen or else their Clans would be destroyed. Dewstar couldn't find too much fault in that, and she really just wanted the Clan to be united again. Even so, she warned her Clanmates that in the future they should take care to warn her before they decide to disappear into the night.

The motherless Nightkit became the responsibility of the entire Clan, to ensure that she would receive all the care and attention that a kit required.

Hollypaw resumed her warrior training under deputy Birdhop's guidance, put under Birdhop's mentorship as a replacement for the deceased Duskpaw. Before the second moon after her return had reached half-way, she was named Hollystalk, a full warrior of DewClan.

Snowfeather had much to tell to the rest of the Clan concerning her long journey with the cats of the other Clans. She talked of Blackfire of DarkClan, and Sinewpaw of TawnyClan, and of meeting the cats of MoonClan, and also of the mysterious Tribes she saw for only a short time. Cats kept returning to her side, ready to hear another tale of her moon of traveling further than any other DewClan cat had in the past - even Dewstar was interested. Though they weren't sure what to think of the notion that she and the others had flown back to the Clans.
Like so, cats wanted to hear what Sparrowhawk had to say as well, how he had befriended a wolf, and what the territories off beyond TawnyClan were like.

Overall/Red Hills/DarkClan/AbyssClan/TawnyClan:

DewClan continued to thrive in their marsh during the wonderful green-leaf, though they kept to the shadows and remained wary of the awful Red Hills that loomed above one outer edge of their territory. To them, it had become a scab on the land - and the name stuck. And so the Red Hills were rechristened as the Scablands.
Dewstar kept an eye also to the towering mountains in the east, where she knew the deserter Clan DarkClan was hiding away in their stone and ice fortresses (or so she thought of it as, after listening to Snowfeather and Hollypaw's stories).

The whole of DewClan now thought very poorly of DarkClan - perhaps the cats who had traveled with some of the cats of DarkClan felt a little differently - namely Nightkit. Just Nighkit, since Snowfeather didn't care for them and Hollystalk seemed to be harboring some ill feelings towards them too.
And now the cats of DewClan kept an eye out for any of those cats, swearing they would chase out any DarkClan cat that crossed their border.
Of AbyssClan, DewClan's overall image of them was somewhat altered. They knew that AbyssClan had had something to do with their survival, though they still felt the shadow of all of the legends, and of Daystar's death, hanging over their heads. So they no longer spat the name of AbyssClan, but neither did they think well of the name either.

They're also not on bad terms with TawnyClan, but they could be soon, especially since one moon following the battle they started to detect TawnyClan scents near their borders for no reason.

List of the Dead:
When the twolegs came into the meadow to retrieve all of the bodies of the dead, DewClan only watched for a short while before returning home to share memories of the cats they had known were laying dead among their enemies, and of the cats who would never return home from AbyssClan or from the journey across the mountains.
The list was hard to think of, but it was this:
Died in the Great Battle:
Graystrike
Riverstorm
Riverpaw
Sunpaw
Duskpaw
Skysoar and her two kits, Gentlekit and Smokekit
Rayclaw
Frostsong
Grayfall
Maplejay
Ravenswift

Died in AbyssClan territory:
Daystar
Creekheart
Tigerpaw
Coalstripe
Nightowl
Firefoot

Died in the Mountains:
Brambleleaf and two of her three kits, Eaglekit and Dreamkit

Two moons after the conclusion of the battle:

Some cats had temporarily paired up after seeing so much death, so this resulted in a few new litters of kits.

- Frostfire birthed six kittens, before the end of the two moons, though two died shortly after. Frostfire was distraught at their deaths and the loss of the lives they could have lead, but she soon returned to her previous demeanor.
Most of DewClan supposes that Foxclaw is the father and that the kits were conceived before the Clan split in two, but Frostfire and Foxclaw aren't confirming or denying anything.

- Petalsong apparently found interest in one of the DewClan toms and is pregnant, and will give birth soon. She has not named the father, and no one really has any guesses as to who it may be.

- Grimclaw was discovered to have been having secret rendezvous with an unnamed rogue she-cat, and returned one day with four young kits in tow, with the she-cat nowhere in sight. He would say nothing of their mother, but Grimclaw is very proud of his kits and is always spending time with them.
Dewstar was surprised but did not fault Grimclaw - though she did extend the same warning to him as she had the Clan about disappearing because of dreams without saying anything - only sort of altered to say "secret lovers" instead.

...


As of now, the cats of DewClan are ready to face the new future and embark on new journeys to further strengthen the bonds of their Clan.

Dewstar feels more secure in her position as leader than ever before, though the knowledge of the deaths of so many of her Clan - especially the ones that perished in the Moonfall - remains in her mind, and will likely stay with her until the end of her days. She hopes that she will be the greatest leader DewClan has ever had, and looks to her Clanmates for strength and support, and is ready for whatever comes next.
_________________
If you have a question, EMAIL me at:
longstormicus@gmail.com
Siggie:

Click here for Newest Warrior Map!

Spoiler:

Butterflies = To Tribes

Hawk = To Dwellers

Funny Moon = Blood Stones

Half-Moon = Moonfall

Longstorm

LS's Group





Posts

: 2320


Join date

: 2010-12-04


Age

: 21


Location

: Vvardenfell.



((Just adding time skip information for my rogue/loner party.))
Stormclaw: He continues to wonder about the old Tawnyclan territory, using it as his home despite it's condition after the battle. To this day he continues trying to recruit other rogues to form a clan of his own. He tries to hunt the lack of prey in the area and he does try to avoid fighting for now as his wounds haven't quite healed. He still hears the voice in his head and at times this is a hinderance.
Snow: The she-cat still lives on the outside border of Tawnyclan, she knows that where she is staying isn't best for protection as the smell of badger fades completely by this point, so she's constantly feeling threat. Eventually Stormclaw does find her out, but not straight away.
Stonepaw: Has by now been fully accepted into Tawnyclan, so he doesn't need much of an update. He tries his hardest to impress his new mentor Solarstorm.
((that's all I can think of for now... I can't wait to get back into the roleplaying with you guys.

))
_________________
I'm Ezziesong, the cat that will risk my life for love.
Check out my dragons @ http://ezzie10.dragonadopters.com/
My Deviantart page @ http://ezziethenekolover.deviantart.com/
I am new but I LOOOOOVE the Warriors series. (I read the first book in 3 days!)
I have Ezziestar (Tawny clan leader)
Stormclaw (Ex. Tawny clan warrior now in mudbloodclan)
Mistpaw (Dew clan medicine cat apprentice)
(I adopted her out)
Stonepaw (Ex. Loner, Tawnyclan Apprentice)
Brambleleaf (Dewclan queen)
Eaglekit (Dewclan kit)
Dreamkit (Dewclan kit)
Nightkit (Dewclan kit)
Smoke (Wolf pup of GH's pack)
Berri (Wolf pup of GH's pack) *I adopted him*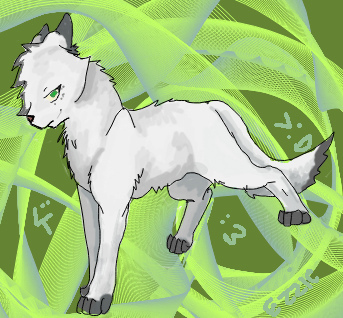 Ezziesong drawn by Loki. THANKYOU LOKI!
And:
---
Permissions in this forum:
You
cannot
reply to topics in this forum