The cats DewClan were gathered beneath the Tall Rock for a Clan meeting. They hadn't exactly been called yet.
It had become a little bit of a habit, converging on the Tall Rock near the end of the day to chat. Though the Clan shared tongues during the high point of the day as normal, meeting at the Tall Rock injected a sense of structure and stability and transparency into their lives. Something they had all needed over the past two moons. Especially this night. The night after the Gathering would have been, under normal circumstances.
So here, in the fading light, Birdhop broke out of the group of Clanmates and took his spot at the base of the Tall Rock just as Dewstar took her place at the top.

Birdhop had once dreamed about being named Clan deputy back when he had first joined the Clan and didn't really understand what that meant. When he did, the desire faded, and he was fine with being a warrior after all. Then Dewstar knocked him off his paws and named him, of all cats, the new deputy. He had then and now hoped to each and every one of the stars that Dewstar would live 1,000 years so he wouldn't have to become leader ever and just serve as deputy until he was so old all of his whiskers fell out and he died while hunting a frog - or something similar to that scenario.
He liked Dewstar as a leader more than he had liked her as a deputy. Mostly just because he hadn't known her that well when she was deputy. Now he was basically her confidant, second in command, and his relationship with her had a lot more of an effect on the overall Clan than he had ever suspected. He had a newfound respect for Dewstar for when she had been Dewdrop. He respected her now too, but was a little confused about the matter of her being leader.
It had nothing to do with anything except for the fact that he, and everyone else, had only ever had one leader in their whole time as being DewClan cats. According to Daystar, and the other Clans it seemed, leaders were replaced all the time, and it was normal for deputies to take a leader's place.
It felt incredibly strange.
Dewstar felt the same way, she had told him one morning, a moon back. That she felt somewhat like an impostor even though everything had been done correctly. She told Birdhop this after a period of them acting very formal around one another. Hearing that Dewstar felt like him made Birdhop confide to her that he felt the same way as the new deputy. It was cathartic for the both of them. After that their work relationship smoothed out a bit and gave them both a little bit of hope for the future of their roles.

As soon as Dewstar knew that all cats were present, she opened the discussion with:
"Good evening, everyone. Let's get started. Who would like to speak first?" Dewstar wanted her Clanmates to feel like they could bring up anything, that she would listen to them in public and in private.
Not many cats had actually come to speak with her in private, as it happened. This was part of the reason she had started the meets. Two moons ago, The Clan as a whole had been acting a little skittish, a little too quiet and afraid. Dewstar had thought it over for a day, right until the end of it. As soon as the idea came to her she leaped upon it and called a meeting then and there. Which, coincidentally, was why they now held the meets as the sun was going down.
Dewstar hadn't talked it over with Birdhop beforehand. In retrospect, she knew she should have, and regretted not doing so, especially when she saw the lost expression on his face - and everyone else saw it too.

Now, however, it was different. Birdhop knew the purpose of the meets and liked it. Dewstar found she enjoyed them too. The Clan wasn't as it had been, and Dewstar sort of doubted it would ever return to its previous state, but perhaps that just meant DewClan was taking a different path that would lead to something greater. Or so she hoped.

"I saw a large bird in the marsh today," called Hollystalk. "It swallowed a frog whole then flew away before I could catch it." She sounded both disappointed and impressed.
A fact-question occurred to Foxclaw: "Was it a big frog or a little frog?"
"A big one." Hollystalk's eyes were big and round.
Some of the other warriors made playful noises of disgust.

Dewstar focused on her.

Hollystalk was the newest warrior in the Clan. She had returned with Nightkit not a day after Sparrowhawk had returned. She had spun a more subdued tale than Nightkit, Sparrowhawk, and Snowfeather, but it was fascinating still. Ice shells, blizzards, deaths, and a surly DarkClan warrior she-cat that she seemed both in awe of and enraged by. With her return as an apprentice her training was turned over to Birdhop. Not long after she was deemed experienced enough to be named a warrior. Now she had been a full warrior for a few moon-phases. She fit in well. She took her her duties and her relationships like a frog took to the marsh. And having been originally Daystar's apprentice helped too. Hearing about his death had been a shock, but she bounced back. Probably had something to do with deaths and an ice shell numbing her to it.

Hollystalk probably had some things to work out. Dewstar compartmentalized her own thoughts, she knew the same type when she met them. She probably had some things to work out too. Maybe with Birdhop or Mistjay - if Mistjay ever stopped talking and worked out her own problems.

Mistjay the medicine cat had been plowing the others over with information, as of late. Herbs. Where they grew, what they were for, how to pick them, how to preserve them, all of the different ways she knew how to use them. She didn't talk about anything else. Something in her was a little screwed up. Dewstar wouldn't press. Sure, she could feel a little indignant in her own mind about it, but she wouldn't force Mistjay, or Hollystalk, or Birdhop, or anyone else to face their problems before they felt ready.

And so they chatted at the end of the day.

The gross loss of lives in the battle against the Mudbloods left a wound in everyone's hearts. The spaces their dead Clanmates left sometimes seemed overwhelming. It was never more poignantly felt than in the middle of the night when it seemed that the empty nest was only because the Clanmate had briefly stepped out and would soon return. Brothers. Sisters. Friends. So many gone.

Life went on, though, as they were all discovering together.

Petalsong would be kitting soon. Her glossy black pelt seemed all the glossier for the happiness that followed her like an aura.
Her sister, Frostfire had kitted about a moon back - she'd had six kits, but two died soon after. She was still grieving, and sometimes she needed her grief heard, but she was enduring, and her remaining kits were strong, stronger still for all the love and care they received from her.
Grimclaw, out of the blue, had one day walked into camp with four kits trailing behind him. They were his, he being their father by blood and bond. He said nothing more of the mother than that he had been secretly meeting with her for a while, but it was over. He didn't seem upset about it. Instead, he seemed ecstatic to have his kits with him.

Beyond new life, the cats of DewClan looked to their own lives - what had changed, what place they felt they were in (metaphorically), and how to handle themselves...

There were many things one every cat's mind...

OOC: I'll post more. But like, other stuff can be posted too? I think Nightkit may be in the Nursery but idk. I'm just touching base with everyone here. I may post more soon, or later on in my day. I just want to have a real thing post, y'know?
Last edited by Longstorm on Sat Oct 10, 2015 5:24 am; edited 1 time in total

Longstorm

LS's Group





Posts

: 2320


Join date

: 2010-12-04


Age

: 23


Location

: Vvardenfell.



((Yeah, Nightkit would be most likely required to stay in the nursery, I'll still post Nightkit here if that's alright with you? She'll still be in the nursery however.))

Nightkit, looked around the nursery. She closed her eyes as she remembered arriving into the strange camp, surrounded by cats that she hadn't been acquainted with before. It took her awhile to adapt, and she began to learn that there were rules and customs that she had been told about, but not in great detail.

Her eyes opened again as she watched her current prey; a stray leaf. She was crouched, her eyes wide and her body held in an awkward position. She pounced, batting the leaf into the air, before dropping onto her back and batting at it again.

At this particular moment, she knew that the rest of the clan had gathered around Tall Rock. Nightkit was curious as to what was being discussed. She left the leaf and slowly made her way to the entrance of the nursery.

She strained her ears to try and listen to the meeting of the gathered fellow clanmates.
_________________
I'm Ezziesong, the cat that will risk my life for love.
Check out my dragons @
http://ezzie10.dragonadopters.com/
My Deviantart page @
http://ezziethenekolover.deviantart.com/
I am new but I LOOOOOVE the Warriors series. (I read the first book in 3 days!)
I have Ezziestar (Tawny clan leader)
Stormclaw (Ex. Tawny clan warrior now in mudbloodclan)
Mistpaw (Dew clan medicine cat apprentice)
(I adopted her out)
Stonepaw (Ex. Loner, Tawnyclan Apprentice)
Brambleleaf (Dewclan queen)
Eaglekit (Dewclan kit)
Dreamkit (Dewclan kit)
Nightkit (Dewclan kit)
Smoke (Wolf pup of GH's pack)
Berri (Wolf pup of GH's pack) *I adopted him*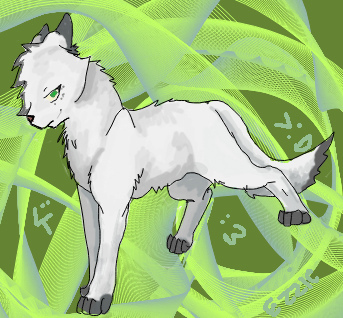 Ezziesong drawn by Loki. THANKYOU LOKI!
And:
Sparrowhawk sulked on the fringes of the camp, near the entrance. He had lost a lot of weight lately though it did not make much difference being that he was a petite tom.

His thoughts were clouded with the off-white fur and great amber eyes of his sister: Whitehare.
She had betrayed Dewclan and left with the mysterious Abyssclan. He wondered why and importantly he also wondered if she cared about him. Thought about him. Worried about him, like he did her.

He wondered if maybe he would see her again and maybe if he could talk to her.

His musings were interrupted with a gruff voice above him, "Sparrowhawk."
The tabby tom glanced upward at the large, red tom.
"I'm hunting for Frostfire," the tom said, his eyes looking away as if his thoughts were elsewhere, "come and help. Your moping is nothing but useless to the clan."

Sparrowhawk drew back a bit as Foxclaw fixed him with an angry, amber glare. The small tom felt as if he were a kit that had done something awfully wrong.

Foxclaw's tail flicked impatiently and he padded past through the entrance to the Dewclan camp, finding his way easily through the marsh.

Sparrowhawk hesitated, glancing around himself to see shallowly if anyone had witnessed their exchange, just in case his body turned up some where.

Sparrowhawk padded away, wondering if the animosity was aimed at the fact that he was not present from start to beginning of the final battle. Glowering, my courage in bringing that old dog meant that more Mudrats were killed, then more thoughtfully, and I cannot control what my impulsive sister does.
OOC:
Spoiler:

This will probably end with everyone going to bed lol...except for the one obligatory night guard. with the stats system I would probably use the dice roll for Perception to see if someone near the nursery noticed Nightkit. because I am a huge nerd.
IC: Grimclaw was hanging out in the crowd of Clan cats. Occasionally he looked back towards the nursery, where his four kits were (supposed to be) sleeping.
He was immensely pleased to have them here with him in DewClan. Though he supposed maybe he shouldn't say that again at the meet. He was pretty sure everyone knew at this point.
Even so...
Like a laser, Birdhop focused on Grimclaw. He could
feel
what Grimclaw was going to say.
"Today, Sparky caught a caterpillar," Grimclaw said proudly.
Hollystalk and Shadowspot groaned, albeit good-naturedly. Well, maybe not as much from Shadowspot, but then who could tell what was going through the half-Clanner's mind?
Even so, Grimclaw kept beaming. "Sparky said it taste
terrible
." Some of the other cats laughed - like Dewstar. Dewstar laughed a little.
Sparky was the only kit out of the four that went by any sort of real name. The kits and Grimclaw were working on finding suitable names for themselves, and Sparky liked hers for now. She planned on changing it at some point, if she decided she didn't like it. Since the kits were just that, kits, having "real" names wasn't too important.
Shadowspot was looking sideways at some of the other cats around him. Tonight he was feeling somewhat...well, not awkward, but something. And he didn't want to talk so much. So he listened.
He was aware that Foxclaw had left the group. Wherever he went off to.
Movement caught Shadowspot's eye. Mistjay, slinking around the entrance of her underground den. She looked like maybe she wanted to join the group but perhaps felt in a way similar to Shadowspot. Which would be ironic, given a few things they shared in their pasts.
Anyway, Shadowspot figured they would be done speaking soon.
OOC: I'm hoping the wayward Meany posts a thing. Even if he don't then I'll close the topic after one more post or two.

Longstorm

LS's Group





Posts

: 2320


Join date

: 2010-12-04


Age

: 23


Location

: Vvardenfell.



((Fair enough, Meanwhile, I do want Nightkit's wind powers to be discovered by someone at some point. XP It only happens when she's excited or showing extreme emotions at this point. Because I know she has no clue about it herself and has no control over it either.))
Nightkit eventually gave up on listening in. She sighed inwardly as she slowly began to walk, she kept staring at the ground,
It's so boring here... I don't see why I can't see Mistlight... I bet it's so much fun in her camp.
Without looking where she was going, she accidentally tripped over something that she didn't quite see. Getting to her paws quickly, she turned to face the thing that tripped her, only to be facing a small rock.
Despite the time, ((I can only assume it's meant to be bed time for the kits from your post LS?)) Nightkit began to giggle as she imagined the rock to be some sort of prey. She turned to face it then pounce on the small rock.
Upon this Nightkit bounced back, then extended her right paw to gently bat the rock. This of course made the rock move as it wasn't particularly a heavy rock.
Nightkit was now tumbling around the entrance of the nursery with the small rock. Giggling with glee as she kept pouncing at and "catching" the rock.
"Gotcha!" She'd squeak with joy each successful pounce.
((I just wanted to add a post before you chose to lock th topic.

))
_________________
I'm Ezziesong, the cat that will risk my life for love.
Check out my dragons @
http://ezzie10.dragonadopters.com/
My Deviantart page @
http://ezziethenekolover.deviantart.com/
I am new but I LOOOOOVE the Warriors series. (I read the first book in 3 days!)
I have Ezziestar (Tawny clan leader)
Stormclaw (Ex. Tawny clan warrior now in mudbloodclan)
Mistpaw (Dew clan medicine cat apprentice)
(I adopted her out)
Stonepaw (Ex. Loner, Tawnyclan Apprentice)
Brambleleaf (Dewclan queen)
Eaglekit (Dewclan kit)
Dreamkit (Dewclan kit)
Nightkit (Dewclan kit)
Smoke (Wolf pup of GH's pack)
Berri (Wolf pup of GH's pack) *I adopted him*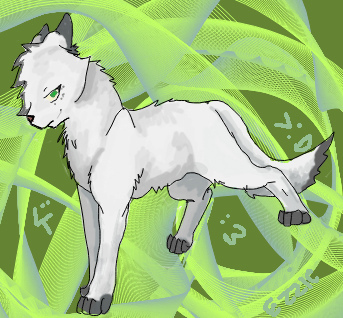 Ezziesong drawn by Loki. THANKYOU LOKI!
And:
OOC: Cool-cool. Maybe a later topic, since like nothing "important" is supposed to happen here. just getting it all started again.
I don't think Meany is gonna post here. soooo...wrapping it up!

IC: Frostfire, in her nest with her four kits, made a shushing noise at Nightkit with a soft purr. It was growing later, and the nursery grew quiet as the last of the light faded from the sky. Even Grimclaw's rambunctious kits had wound down and were drifting off to sleep.

Dewstar listened to each and every cat that wanted to speak. What each had to say may not have had any sort of life-changing consequences, but they were important to her all the same.
When the last cat fell quiet, and the cats of the Clan began to speak among themselves, Dewstar stood where she had been sitting.
"The meet is over for tonight," Dewstar announced. With that, she leaped down off of the Tall Rock. Once at the base, she turned to Birdhop.
"Who is on guard tonight?"
"Grimclaw," Birdhop answered. "He already knows," he added.

Dewstar didn't want to step on Birdhop's toes, so to speak, but at the same time she felt like she needed to hear about everything that went on in the Clan. She figured she was pretty overbearing at times - well, she knew for sure she was overbearing sometimes. It had been pointed out to her at least a few times from a few different sources.
But after she and Birdhop had begun to communicate a little better (that is, actually communicate), she felt a little better. A little.

Dewstar nodded in what she hoped came off as just affirmation and not some sort of condescending approval.
"Alright. I'll see you tomorrow." Awkward.
Birdhop felt the same. "Okay. Good night."

As Dewstar passed by, some of the other cats bid her good night as well. She returned the phrase a few times before disappearing into her hollow tree.

Birdhop went and spoke to Grimclaw quietly for a few minutes then said good night to him as well. After, he walked around the dispersing crowd of cats and re-affirmed that the cats he had chosen earlier were still aware of the fact that he had spoken to them about taking the dawn patrol.
Before, being deputy was trial and error. Well, it still was, but in two moons Birdhop and Dewstar had found a kind of rudimentary routine to follow, and for the most part it seemed to work.

After all of that, Birdhop followed the other warriors into the warriors den, and the dark clearing was left quiet. The only sign of movement was the glint of moonlight on Grimclaw's yellow eyes in the darkness.

For the time being, all was well.

OOC: wow I'm such a frickin nerd.
and Sparrowhawk and Foxclaw up and going without telling anyone will likely have consequences. with Birdhop. just sayin'. Bet Grimclaw flips when they show up later. not in this post.

Longstorm

LS's Group





Posts

: 2320


Join date

: 2010-12-04


Age

: 23


Location

: Vvardenfell.



---
Permissions in this forum:
You
cannot
reply to topics in this forum