Grimclaw yawned a big yawn. He was on guard duty, something that went from dark until dawn. Now that the cold first light of the morning had finally creeped its way into the DewClan camp, he was really feeling the hours he had spent awake while everyone else slept.

He could hear some cats beginning to wake up. Faint meows from the warriors den, and Mistjay was poking her head out of her secondary patient's den, already bright-eyed and awake.

The day had begun.
Last edited by Longstorm on Thu Oct 22, 2015 6:49 am; edited 1 time in total

Longstorm

LS's Group





Posts

: 2320


Join date

: 2010-12-04


Age

: 23


Location

: Vvardenfell.



Nightkit was dreaming, in her dream she was following a pretty butterfly. Suddenly the butterfly disappeared, and as Nightkit began to search for it, she found her mother, brother and sister. They were all standing together, Nightkit raced towards them.

"Momma! Eaglekit! Dreamkit!" As she called each by name, they turned to face her. When she reached them, she nuzzled her mother, tears forming, "Momma! I missed you so much." Nightkit wept.

Before she knew it, her family vanished, reminding her that she was all alone. Then she saw the rogue cat standing there, he was over the now motionless body of her mother. Angry she charged at the stranger, but this time, the stranger took off towards her.

The closer he got the more terrifying, and Nightkit struggled to move. When she did, she used what she could to turn and run.
"Help! Someone!" Nightkit squeaked, suddenly waking up and seeing she was in the nursery of Dewclan.

Just a bad dream... Nightkit sighed in relief. This dream was a regular occurrence for her, ever since the incident two moons ago.
Nightkit shook it off, suddenly aware that tears had spilled down her cheeks. I miss you Momma... Eaglekit, Dreamkit... I wish you were all here now. The young kit quietly cried to herself, trying to not cause a scene that'd wake the others early.
_________________
I'm Ezziesong, the cat that will risk my life for love.
Check out my dragons @
http://ezzie10.dragonadopters.com/
My Deviantart page @
http://ezziethenekolover.deviantart.com/
I am new but I LOOOOOVE the Warriors series. (I read the first book in 3 days!)
I have Ezziestar (Tawny clan leader)
Stormclaw (Ex. Tawny clan warrior now in mudbloodclan)
Mistpaw (Dew clan medicine cat apprentice)
(I adopted her out)
Stonepaw (Ex. Loner, Tawnyclan Apprentice)
Brambleleaf (Dewclan queen)
Eaglekit (Dewclan kit)
Dreamkit (Dewclan kit)
Nightkit (Dewclan kit)
Smoke (Wolf pup of GH's pack)
Berri (Wolf pup of GH's pack) *I adopted him*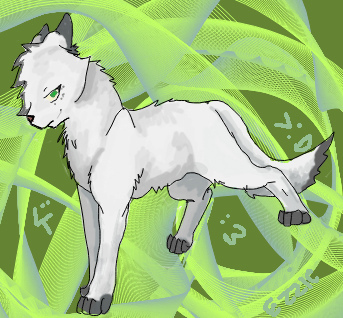 Ezziesong drawn by Loki. THANKYOU LOKI!
And:
Grimclaw looked up and saw that Shadowspot was coming up to him.
"You can go to sleep now," the younger warrior said, looking a little uncomfortable speaking to Grimclaw.
Grimclaw nodded gratefully. "Great. Bye." He didn't say it in a curt way, he just sounded really tired. He vaguely remembered needing to talk to Birdhop, but decided that would be a little later.
Shadowspot watched Grimclaw meander away towards the warriors den, then went to check out the fresh kill pile.
The cats in the dawn patrol had been roused by Birdhop, and they passed Grimclaw on their way out of the warriors den. The patrol consisted of Snowfeather, Hollystalk, and Whiterose. The three she-cats didn't waste time getting out of the camp, off to patrol the Clan's borders.
The fresh kill pile was a little low, Shadowspot saw. Still, that didn't stop him from snagging a sorta flat-looking frog off of it. There would be a hunting patrol soon anyway, and he'd probably be on it. And so, he took his frog and settled down near the warriors den to eat it.
OOC:
Spoiler:

Idk why but I feel as though I must resist the urge to make every other character I play - that is actually mine - gay or bi or whatever.

Also, I realized that this was the in wrong board! whoops!

Longstorm

LS's Group





Posts

: 2320


Join date

: 2010-12-04


Age

: 23


Location

: Vvardenfell.



OOC: I'm here

IC: Snowfeather went off to patrol.
Brownhowl was still in the warriors's den sleeping.
_________________
Jazz the Totally Awesome!
Spoiler:

(by Loki!)
Spoiler:
Click to see official Outcast Map, By Loki and LS!
Spoiler:

Butterflies = To Tribes

Hawk= To Dwellers

Funny Moon = Blood Stone

Half-moon = Moonfall

Meany

LS's Group





Posts

: 632


Join date

: 2010-12-11


Location

: Mt. Doom



OOC: omg really?
anyway, probably gonna close this soon.

IC: Mistjay padded from her patients den to her normal den, saying nothing, slipping through the shadows almost like a ghost.
Shadowspot watched her out of the corner of his eye. What was going through her head these days, he wondered? They never talked - not like they did before, but still. Shadowspot considered his and Mistjay's shared history for a second, then was surprised to realize he hadn't thought about it in a while. Huh. He wasn't sure what that meant, not at all, and it made him a little uncomfortable.
Shadowspot glared at his half-eaten breakfast. This wasn't the way he wanted to start his morning. Not in the slightest. He huffed and spitefully bit off another bite of breakfast, chewing angrily.

It looked pretty worrying to any bystanders.

Shadowspot could only hope for the morning to pass swiftly.

Longstorm

LS's Group





Posts

: 2320


Join date

: 2010-12-04


Age

: 23


Location

: Vvardenfell.



The sun rose higher in the sky - more cats began to wake, even the cats within the Nursery (though, secretly, Frostfire had been awake for a while, listening...).

The day grew warmer and the sun evaporated the dew on the leaves of the trees and the blades of well-trodden grass. Everything smelled fresh and new and full of possibilities.

What could go wrong?

OOC: CLOSING IT.

Longstorm

LS's Group





Posts

: 2320


Join date

: 2010-12-04


Age

: 23


Location

: Vvardenfell.



---
Permissions in this forum:
You
cannot
reply to topics in this forum