On an early morning, just before the sun touched the star scattered sky, Animi woke up from a frightening nightmare. tail between her legs, fur standing upright, but the most strangest thing, was she didn't remember it. I'm not going back to sleep after that, she thought, looking around the large and slightly drafty den. taking a deep breath to settle her fur, she stood up and quietly walked out of the den.
Animi padded to the entrance of the clearing, closing her eyes just slightly, bringing in the deep sounds of birds chirping and soft whispers of the mountains.

OOC: I've been attempting to RP a little more setting then character, did you notice?
Last edited by deathstare on Wed Jul 20, 2011 5:52 pm; edited 1 time in total

NKninja




Posts

: 1342


Join date

: 2011-04-16


Age

: 104


Location

: In the DEATH WATER!!



OOC: Your wolf has come to life! And no, the pack is in a mountain. See this link for a pic:
http://outcastwarriors.forum-motion.com/t519-the-pack-a-guide-into-their-land
And reply to this:
http://outcastwarriors.forum-motion.com/t807-smoke-s-initiation-hunt
Thx

IC: Anamacha lifted his head from his nest. "What's wrong, Animi?"
CListe looked up from where she was grooming her perpetually ragged fur. "Hopefully not some nightmare. What is this pack coming to if our wolves are scared of their dreams?" Secretly, Cliste was scared inside of her dreams. What did she dream about? She dreamt about the day she had discovered that she was barren.
OOC: okay, i'll fix that right away

IC: Animi turned to Anamacha and Cliste " it's not just that. the dream i had...i don't even remember" she murmured, a slight tone of fear in her voice. She knew it was terrible, but just didn't know what. She shook her black coat as if it was wet and stood up, hiding the fear in her eyes.

NKninja




Posts

: 1342


Join date

: 2011-04-16


Age

: 104


Location

: In the DEATH WATER!!



Smoke was pacing about a few fox lengths away. His eyes were fixed on one thing, he sat down as he was in the main 'tunnel' of the cave. The thoughts from his initiation hunt still fresh in his mind. He sat down and stared towards the sun, as it cast light down the cave, but not reaching deep enough to reach Smoke.
_________________
I'm Ezziesong, the cat that will risk my life for love.
Check out my dragons @
http://ezzie10.dragonadopters.com/
My Deviantart page @
http://ezziethenekolover.deviantart.com/
I am new but I LOOOOOVE the Warriors series. (I read the first book in 3 days!)
I have Ezziestar (Tawny clan leader)
Stormclaw (Ex. Tawny clan warrior now in mudbloodclan)
Mistpaw (Dew clan medicine cat apprentice)
(I adopted her out)
Stonepaw (Ex. Loner, Tawnyclan Apprentice)
Brambleleaf (Dewclan queen)
Eaglekit (Dewclan kit)
Dreamkit (Dewclan kit)
Nightkit (Dewclan kit)
Smoke (Wolf pup of GH's pack)
Berri (Wolf pup of GH's pack) *I adopted him*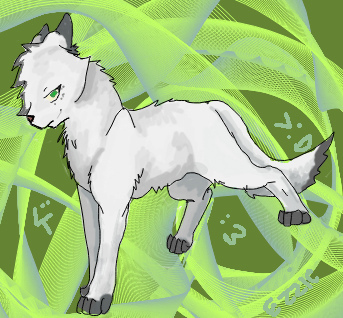 Ezziesong drawn by Loki. THANKYOU LOKI!
And:
---
Permissions in this forum:
You
cannot
reply to topics in this forum