I
REALLY
Need a voice actor for Nova 'AS SOON AS POSSIBLE!'
Watch vid and if any of you have a mic PLEASE have a go at doing this!!!
Comments?
Aww...too bad I am physically unable to fill in...
I sound right for him I'll try and get a mic but, my parents are divorved so I'll only be hear for wendsday some holidays and every other weekend
Smallcockatoo?! What kind of a name is that?! (Actually I don't have much say on that my Youtube acc name's Fuzziewolf...
SmallCockatoo was in memory of my old cockatoo called james :/ He died when I was 8. He was cool...
@Black thats fine since he wont be in much :3
Aww... I wish I could help out with this... but you seem to have the voicing all sorted. :/
_________________
I'm Ezziesong, the cat that will risk my life for love.
Check out my dragons @
http://ezzie10.dragonadopters.com/
My Deviantart page @
http://ezziethenekolover.deviantart.com/
I am new but I LOOOOOVE the Warriors series. (I read the first book in 3 days!)
I have Ezziestar (Tawny clan leader)
Stormclaw (Ex. Tawny clan warrior now in mudbloodclan)
Mistpaw (Dew clan medicine cat apprentice)
(I adopted her out)
Stonepaw (Ex. Loner, Tawnyclan Apprentice)
Brambleleaf (Dewclan queen)
Eaglekit (Dewclan kit)
Dreamkit (Dewclan kit)
Nightkit (Dewclan kit)
Smoke (Wolf pup of GH's pack)
Berri (Wolf pup of GH's pack) *I adopted him*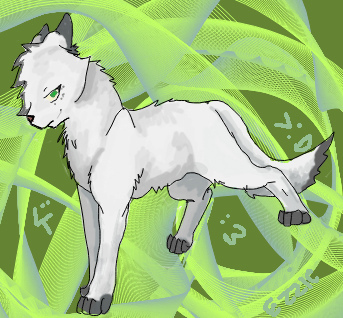 Ezziesong drawn by Loki. THANKYOU LOKI!
And:
If I could see the video, I would help. But my cpu sucks.
@Loki: So did you choose someone for Nova?

Longstorm

LS's Group





Posts

: 2320


Join date

: 2010-12-04


Age

: 23


Location

: Vvardenfell.



---
Permissions in this forum:
You
cannot
reply to topics in this forum